It's an interesting dichotomy. As screens get larger and resolutions higher, screen real-estate gets more valuable. There's been a dramatic uptick in the number of native OS features on both Mac and Windows to provide tools for maximizing a workspace. Windows has window snapping. OSX has Spaces. Recently there has also been a variety of new utility applications for OSX that provide some additional assistance in moving and resizing your workspace windows.
Window Movers
A quick run down of nice little utility apps includes Divvy, Mercury Mover, Cinch, ShiftIt, and Breeze. All of them are very good at what they do. I particularly like Mercury Mover and Breeze. If you're price sensitive, then you can't beat the open source ShiftIt. Although $8 for Breeze is a very worthwhile purchase.
Keyboard Maestro
My go to application is Keyboard Maestro for controlling my workspace. I think it gets overlooked a lot and I'm not sure why. It's a wonderful tool chest filled with compelling little gadgets. For example, if you want to mimic Mercury Mover and have a keyboard shortcut that nudges windows around your screen, that's a piece of cake in Keyboard Maestro. Just build a quick macro that moves the front window to the upper left corner of the screen.

If you want to resize the window to take up the left half of the screen, then just set a new width as well.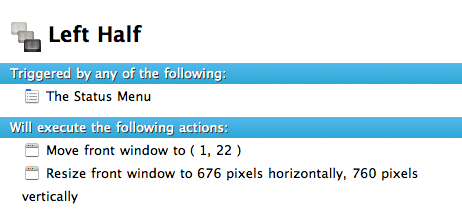 In my opinion, Keyboard Maestro accomplishes everything that the new generation of workspace utilities do. Additionally, there's a heck of a lot more power behind it. For example, you can setup a single macro that opens and positions all of your task applications. I personally use one macro for opening and arranging Notational Velocity, OmniFocus, Mail, and iCal all at once in a grid. One key opens and arranges everything. Another key hides everything. No matter what I do throughout the day I can always get back to the one familiar and productive arrangement. It's quite liberating.