I bought my first dashboard GPS unit in 2006. My wife had been against the idea for the prior year. Every time I suggested buying one she suggested that we were smart enough to use a map. But then one Saturday we went on a road trip to Ikea that nearly ended at divorce court.
We managed to take the right exit, but on the wrong highway. Because it was an industrial park on a Saturday morning, there were few options for getting local directions. After over an hour of trying to figure out how to get back on the "right" highway, we finally gave up and returned home without our unpronounceable Swedish furniture or inscrutable Swedish junk food. The mostly-silent drive back gave us both plenty of time to reflect on the turn of events.
The next day I went to our local BestBuy and bought the Garmin StreetPilot 2730. It was pricey (I believe it was >$500) but it came preloaded with maps for North America and spoken word directions. In spite of containing a hard disk the unit was surprisingly robust and reliable. It also changed they way we drove together.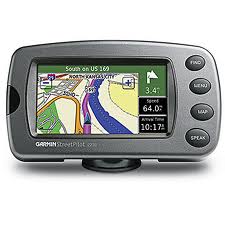 The GPS instantly changed our trips from "missions" to leisure activities. Instead of sniping back and forth about which way to go or dreading the inevitable Boston Big-Dig detour we simply followed the GPS instructions. The Garmin GPS provided nearly flawless directions and we became totally dependent on it. We also started to enjoy each other's company more while driving. Without the added stress of missing an exit or getting stuck on a 10 mile stretch of highway going the wrong way we just talked and listened to music. We enjoyed the ride. We also enjoyed our KANELBULLAR very much, thank you.
Hello Navigon
This year someone stole the GPS unit out of our unlocked car. We were disappointed but I figured it was time to move to a more modern and smaller unit. After browsing Amazon reviews I planned to buy another Garmin dedicated unit. Then it hit me. I own an iPhone 4 and my wife owns a 3GS. Both units have GPS chips. Why not try one of the appstore alternatives. The Navigon offering fit our needs the best so I plunked down the purchase price and installed the app on both devices.[1]
That was almost a year ago. We are happy with the Navigon application. It is very smart about routing. A recent update also added integrated Google search. This makes it much easier to find locations than using the standard POI search interface. If you can find it on Google, then you can get directions to it.
Pros
Accurate
Great route detections
Advanced notice of turns (like 3 reminders before you actually need to make the turn)
Favorites
Integrated POI system
Integrated Google search
Maps are always up to date
Integrates with Address Book
Cons
The iPhone speaker is too weak
That's it!
Add-ons
I'm not talking about some of the in-app purchases for Navigon because you could buy the entire software package and all add-ons and still save a couple hundred dollars over a dedicated GPS unit. I'm talking about physical add-ons that make the iPhone a better GPS unit.
Car Mount
Any sensible use of a GPS unit requires it to be on your dashboard. I chose the Scosche Universal Windshield Mount. The unit is solid and has some great options. It supports all iPod/iPhone units. That means an iPhone 3GS and iPhone 4 work equally well. Secondly the unit can also be mounted on an AC vent if there is no room in your windshield. I have not tried that configuration though. Finally, the whole package was less than $20.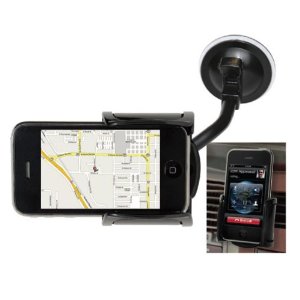 External Speaker
The iPhone external speaker is far too weak for Navigon to talk over the car radio or an open sunroof. I tried a couple of external speakers that fit a 1.8mm jack but none were satisfactory. Fortunately my wife was kind enough to get me a JamBox as gift. The Jambox is small enough to keep in a glovebox or throw in a carry-on bag. Crucially, as long as you remember to turn the power off between uses, the battery lasts for many, many trips.
The audio is not as good as an in-dash GPS system that is integrated into the car stereo, but the Jambox has one additional feature that makes it a great iPhone GPS companion. Bluetooth speaker phone mode automatically kicks in if you tap the answer button on the top of the unit. It's convenient and easy to use if you're in a rental car.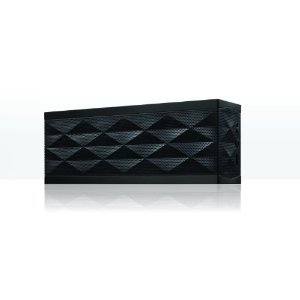 Conclusion
The Navigon app is great. As good as any stand-alone GPS unit. There are also added perks to using an iPhone as a GPS.
It's also a handheld GPS for walking around the city
My wife and I can have different favorites and address books on separate iPhones for one price[2]
It's always backed up through iTunes
It has an always-available Internet connection and Google search (or as close as can be had with AT&T)
It's easy to travel with and use in a rental car
Get a Jambox and a good window mount and it's audio and display beat any GPS unit on the market
---
Navigon was purchased by Garmin. I think that was recognition that Garmin missed the market by holding their breath and waiting for the iPhone fad to go away. The quality of Navigon has not (yet) declined due to the acquisition. In fact, Garmin recently released their own iPhone app with downloadable maps.

↩

Of course you have to purchase two iPhones and use the same MobileMe account

↩