I purchased the PowerDock Dual from Amazon[1] to help cleanup the family charging stations. 2 iPhones, 2 iPads and 2 laptops all charging in one creates an overwhelming tangle of little white cables. Unfortunately the PowerDock Dual is poorly designed and just creates more problems than it solves
The concept is great. The PowerDock holds one iPad and one iPhone with small coin dish between them. It looked like a smart solution. In practice, the iPad holder is awkward and the entire thing is out of balance.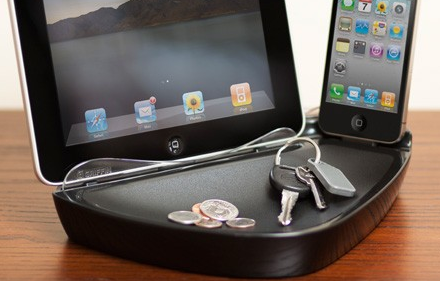 How does it fit?
The iPhone is held in place tightly and fits well. The problem is with the iPad slot. It simply does not fit the iPad 2 with a smart cover on. The railing that sits in front of the lower front edge is too close to the dock connector. In order to get the iPad onto the stand, I am forced to remove the cover. So instead of cleaning up our charging station I now have to set the iPad cover next to the charger.
In addition to the poor design of the iPad holder, the base of the device is not weighted. If I attempt to just charge my iPad, then there is a very real possibility that the entire arrangement can flip over backwards. So basically, Griffin added the coin dish so that a customer can weigh it down with miscellaneous ballast from their pockets.
How is it as a charger?
Good. That was actually a selling point. The charger delivers 5W for the modern power hungry iOS devices to charge fast. It can charge an iPhone 4S and iPad 2 just as quickly as the Apple charger.
How does it look?
Ugly. It looks and feels like plastic. It's a combination of black plastic and shiny clear polycarbonate adapters. It's not something I would keep out for its aesthetic value. However, it is a utilitarian object and not intended to be decorative. Griffin lives up to the expectation.
Conclusion
I have a bit of buyers remorse. It's not very good. It will most likely end up on my nightstand for the occasional overnight charging needs. I'm still looking for something to use daily on an end table. I probably will not try any other Griffin chargers.