I became a steady user of Scratch App (Review) on my iPhone for quickly creating notes. What won me over was the how quick it was to create a new note in Dropbox. By enabling the auto-title option, I can just drop into Scratch and enter a note. Two taps later, it's saved to my "Notes" folder in Dropbox.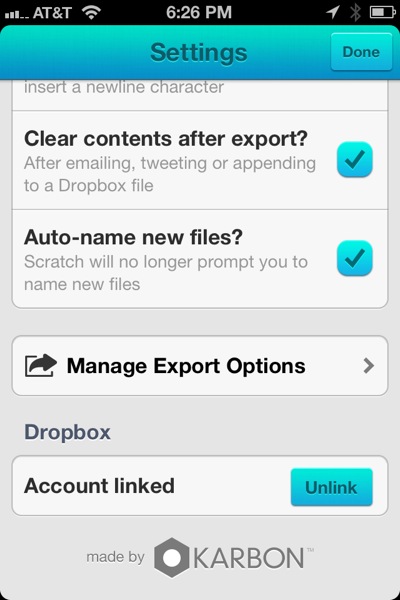 With iOS 6, this workflow has improved greatly. Now I can launch Scratch by voice and dictate the note. Three taps afterward and I'm done.
"Siri, Launch Scratch App"
Tap the dictate button
"new show topic colon space topiary for toddlers"
Tap export button
Tap New Dropbox file button
Tap notes folder

Drafts recently received some major improvements. In particular, there are advanced settings for the Dropbox actions. Through a combination of the "use first line as title" option and a TextExpander snippet, I can create custom titled notes with minimal effort without Siri.
%|Scratch %Y-%m-%d at %H_%M_%S

I've saved this snippet as "qsd" (quick scratch date). It drops the time stamp in and then repositions the cursor at the beginning so I can add more to the note title.
It only takes a quick visit to the Drafts advanced settings to configure. Toggle the "Use First Line as Title" option.
I'm still not using Drafts a lot for notes. I don't like how it puts notes in a separate "Drafts" folder in Dropbox.1 Scratch App just fits my workflow better. The Scratch auto-name files are not my cup of tea2 but the app is the fastest way I know to add notes to my Dropbox notes folder.
---
I've already written about my Hazel rule for partially handling this limitation. ↩

I don't like dot characters in my file titles. That's insanity. Still, it's better than nothing. ↩