I commute over 90 minutes a day by car.1 I spend most of that time listening to podcasts and audiobooks on my iPhone. While my car has Bluetooth connectivity and supports incoming and outgoing calls, it does not support streaming audio. To remedy this problem, I waded through six different bluetooth-to-3.5mm stereo jack adapters. Five of them sucked. The Belkin Bluetooth Kit is great.
Bluetooth Setup
The Belkin BT Kit is $89 on Amazon2 but it's listed for $80 on the Belkin product page. For me, it's worth every penny.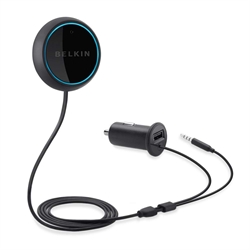 Setup is as simple as any Bluetooth device. I paired with my iPhone without needing to enter a code. After the initial pairing, tapping the small receiver puck (about the size of a pocket watch) initiates a new connection. The receiver changes from orange to blue when a device is connected. With an iPhone (4S or 5), whatever app or track was playing when I turned off my car, starts right back where I left off. This is especially useful when listening to audiobooks. No need to even remove my iPhone from my pocket. I just start my car and tap the receiver puck to jump right back into the audiobook. The Belkin Kit also supports multiple devices without much fuss.
The receiver puck is light and attached to the charger by a ludicrously long thin cord. This allows the puck to be positioned anywhere on my dashboard. For simple BT connectivity I could keep the receiver out of sight. However, if I want to use the Belkin Kit for hands-free calling the puck needs to be in an unobstructed location. I rarely need it any closer than sitting on my center console. If I did, the receiver attaches to a magnet disk that can be permanently affixed with included sticky tape. This allows the receiver to be tucked away without the need to detach the glue pad. I usually just pick up the receiver when I want to use it. It's small enough to hold while I also hold the steering wheel.
Audio
The Belkin can be used for hands-free calls just as easily as listening to music. Tap the puck when a call comes in to answer it. I really like the ability to use Siri through the Bluetooth. This requires me to hold down the home button on my iPhone to activate it, so I limit use to appropriate times. Still, it's nice to be able to add a task to my inbox in the middle of listening to Roderick On the Line. My only complaint is that the audio is much louder for Siri and incoming calls. It's rather startling. Beyond that, the audio quality is superb.
Power
The Belkin kit is powered by a small cigarette lighter adapter. With several other devices the power adapter consumed one of my precious power outlets. The Belkin device includes a USB pass-through for charging.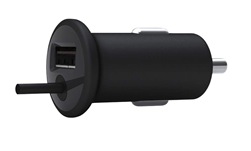 Dash Mount
While I can keep my phone in my pocket while listening to podcasts, I also use my iPhone for navigation occasionally, which means I need to steal quick glances at my phone while I drive. I needed a good dash mount and I found one.
The iOttie is $20 on Amazon. It's cheap and it's awesome. There are two features that make the iOttie stand out. First, the suction cup is made of a much softer rubber than most. It almost feels like a gel shoe-insert. This provides it with super-powers for attaching to textured surfaces. For example, I mount mine right on my textured dashboard. It stays there without any problems.
Second, the compression tabs that hold the phone are spring-loaded. Squeezing two buttons along the side of the iOttie, releases the phone and pop the side mounts open. Simply pressing my phone back into the iOttie causes the mounts to snap back into place and a rubber coated plunger to press against the back of the phone. There's nothing to adjust. It just fits the phone tightly. It fits my new iPhone 5 without making a single adjustment. It will fit my wife's iPhone with it's case too.
Here it is with my iPhone 5 mounted.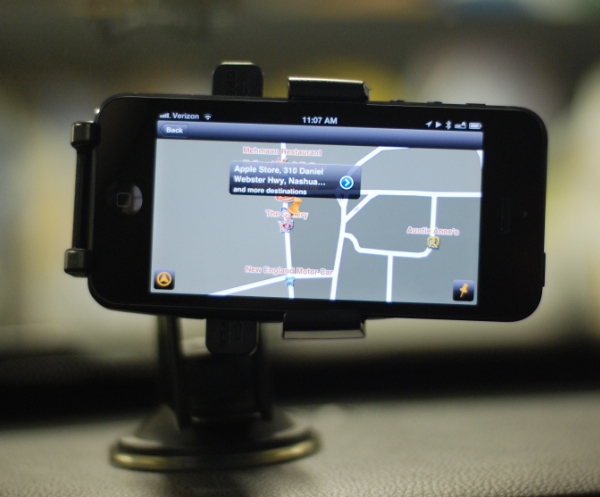 Positioning
The iOttie is also adjustable to multiple angles by twiddling a couple of locking knobs on the support arm. It's very easy to maneuver. Finally, the suction is also easy to release. I've moved this between cars within seconds. After multiple moves, I washed the suction cup to freshen it up and remove dust. I've never had the iOttie lose suction though.
Conclusion
I've tried many different setups. Each one was disappointing. The combination of the iOttie and Belkin BT Kit is very satisfying. If I had one complaint, I would prefer a wireless receiver for the BT Kit. However, that rarely effects me so I am unlikely to continue looking for something better. This is a very good setup for me.
Belkin BT Kit | $88
iOttie | $20