Newsstand has not fulfilled my expectations. I wanted it to break out of the old magazine model that required user hostile layouts that vomited up ads and subscription cards with every page turn. For the most part, that is what Newsstand "magazines" are. They are little more than PDFs of ads with a hyperlinked index. In some cases they are actually worse than a paper magazine. At least I can use those to line a bird cage.1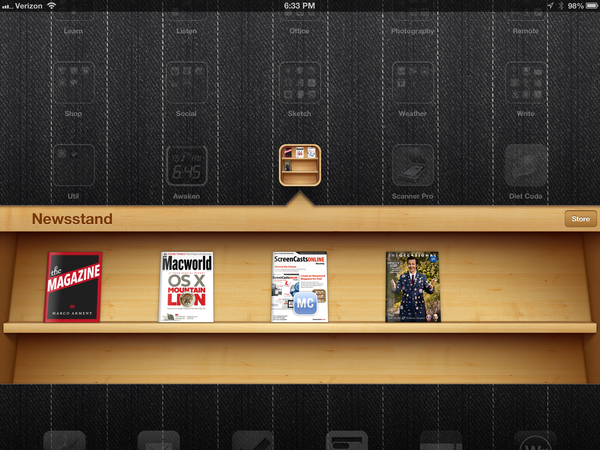 But it's not all bad. Marco released The Magazine last week. With that, I now have four magazines I regularly read:
The Occasional | $2 per Issue or $10 per year | 6 Issues per Year | Portrait Only
The Occasional is one of the most audacious departures from the traditional magazine. It is fully interactive and includes some clever layouts. The design really fits with the iPad. But beyond that, it is a great read. It's produced by Funny or Die so I knew I would enjoy it, but the writing is very good. Much better than I would have expected for a humor magazine. There are bad moments with The Occasional. They are really pushing the limits and the app crashes regularly. There are still only a few issues so this may improve, but it does detract from the experience. There are also limited ways to share the content. I'd love to show an image or provide some quotes, but it's not easy to do. It is excellent entertainment though, so I'll take what I can get.
Macworld | $3 per Month or $7 per issue | 1 Issue per Month | Portrait Only
What can I say? I like Macworld. I always have. It has some of the best Apple related writing around. It still runs too many ads for my taste, but the ad to article ratio is still low enough that I have a subscription. On the whole, the layout is acceptable, but not impressive. It's a paper magazine on glass. That doesn't excite me.
ScreenCastsOnline Monthly | $7 per Issue or $6 per Month Subscription | 1 Issue per Month | Portrait Only
The ScreenCastsOnline Magazine is not really a magazine, so don't let the steep price fool you. It's more of a tutorial app in a magazine format. I don't carry a subscription. Instead, I purchase single issues with topics I want to learn about. As with every Don McAllister tutorial, they are polished and full of great tips.
The Magazine | $2 per Month | 2 Issues Per Month | Portrait and Landscape
And now, there is The Magazine. The inaugural issue is full of smart words by clever people. That's the kind of writing I like. I haven't decided how I feel about the material of some of my favorite writers becoming sequestered inside an app. However, The Magazine goes to great lengths to reduce that isolation. Articles can be sent to Instapaper and authors can publish their articles online 30 days after the issue. It's a fairly cheap price to pay for someone else to coordinate and gather great topical writing in one attractive place. I look at it more like I am paying $2 for the editorial effort rather than $2 for canned blog posts.
That does get to the real nut of the problem I have with Newsstand. Most of the content available for purchase is not substantially better or different from that freely available on the web. With tools like Instapaper, I can take web articles with me and read in a customized and comfortable environment. Often, that is not true of Newsstand magazines. There is rarely a way to share or archive the content in Newsstand. Referencing is nearly impossible. I want to support good writing as much as the next guy, but not at the expense of common sense.
My Newsstand is mostly empty and it will likely stay that way. Except for a few shining examples where publishers are imagining what a magazine can be, it's mostly a floundering half-hearted attempt at "leveraging" a new market. The few magazines I consistently renew are those that don't resemble a magazine at all.
---
I've purchased many different "news" magazines as well as pulp writing. Bloomberg may be the best, but it wasn't compelling enough to continue the subscription. ↩