A Task Management Vision Quest
I've used OmniFocus since the first week it was released. I've reached a professional tipping point. I manage some large projects with dozens of contributors that span several years. My OmniFocus database has many, many hundreds of tasks. Six months ago I realized that contexts were becoming irrelevant in an always-available and online world. I can do email at any time. I can write or search the web from my phone. I can make a phone call at any time. Only a fraction of my contexts are location bound. So I experimented with using energy levels as contexts, but that's a luxury I don't have. If I'm tired, I still have to do my job. Then I toyed with hybrids of contexts and tags by adding keywords to task names and notes. However, as any long term OmniFocus user can tell you, tags just don't work well. OmniFocus sticks rigidly to the concept of a single context for each task. I've out grown that model on many levels.
I also work on Windows all day. While I can access my OmniFocus data through my iPad, quickly adding and viewing tasks is cumbersome. Spootnik has given me web access to OmniFocus for several years but it is limited. Ubiquitous capture means Windows too. While I can email into my OmniFocus database, I really need better access while on Windows. I also need more out of my tasks than OmniFocus can provide.
I've been on a vision quest for the past few weeks. I've wondered the forsaken plains of the productivity-web and I'm back to report on my discoveries.
The Criteria
I want web access and a native iOS app for any new system. It would be great if there were native Mac and Windows apps, but that's not critical. The new system should allow me to be better, with less effort than what I have now with OmniFocus.
What I'm Losing
While OmniFocus is starting to lose its charm, it's still one of the best single systems for task management. I've accepted that there will be some things I lose if I choose to leave the Omni-garden.
None of the apps below have a review mode
None have a clipper as good as OmniFocus
There are no API's like OmniFocus' AppleScript dictionary
And now, onto the apps.
Must sign in with Google so I didn't try it. Move along…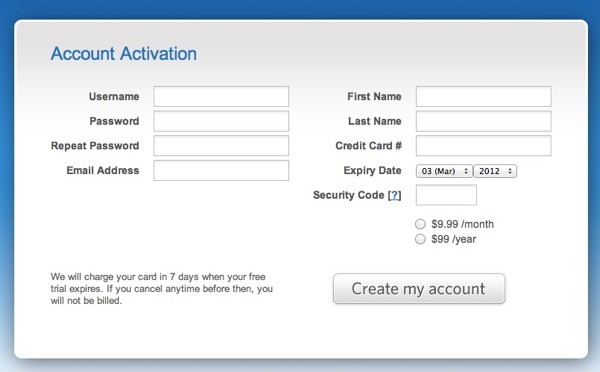 Pricing
$100 per year.
Apps
Assessment
The free trial requires a credit card number. That's a shady model I can't abide.

Pricing
There's a free basic account and it's $29 per year for a premium account. Premium members get a lot for the money, like sync, task search, tasks by email, and calendar support. The basic account is almost useless but the Premium version is quite nice.
Apps
Assessment
A very attractive web app. It's uncluttered and easy to understand. The apps are also fairly good but basic.
Can not convert task to project
Uses task indenting (like a list), which I like
There is no start date support
Tasks can be given a priority
Reminders (Premium)
Minimal label/tag support (Premium)
No Quick entry
They already sent me a "helpful" email. Not cool.
Todoist is nice, but very limited. Keep looking…
Trello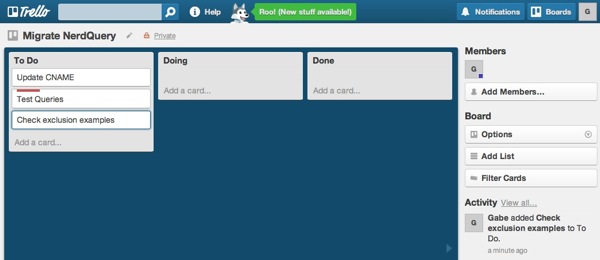 Pricing
Free. It's made and sponsored by Fog Creek.
Apps
Assessment
Trello is an extremely simple task management system. It's meant for tracking development activities. There are not many tricks to this pony but it could be a nice simple (and attractive) solution for some groups.
Color labels
No tags
No due dates
No contexts
No GTD concepts whatsoever
Trello isn't for me. It's a nice looking web app and from what I've read, it works great for some people. Keep looking…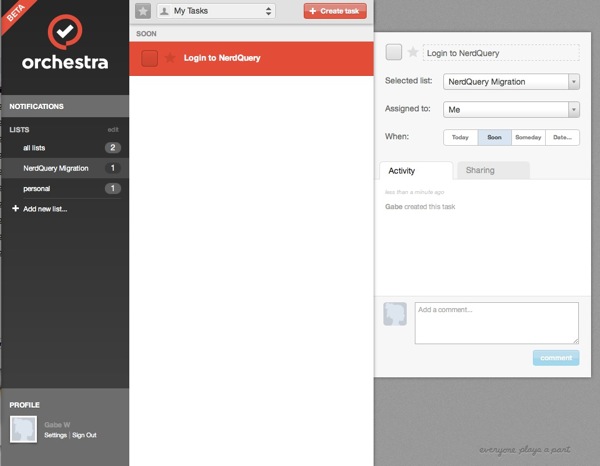 Pricing
Free, I guess. No idea. It's a San Francisco startup. They don't need your stinking money. It's beta!
Apps
iPhone
Web app
Mac, Windows and iPad are planned
Assessment
Orchestra is a very pretty app. It's really focused on team work and assignments.
Not GTD centric
No contexts
No search in web app
Group sharing
Flags
No task repeat
No quick entry
Email notifications
Orchestra really shines on the iPhone. The app is beautiful and handles quick entry well, including dictating tasks directly into the app.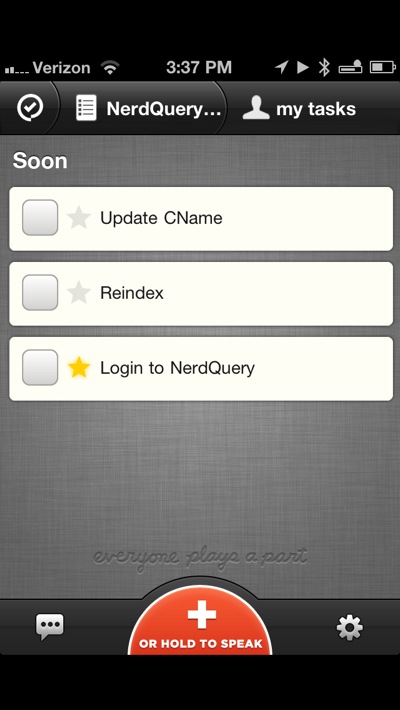 I just can't use Orchestra for complex tasks and projects. Remember, I'm looking for an improvement on OmniFocus. That's a pretty high bar. Next up…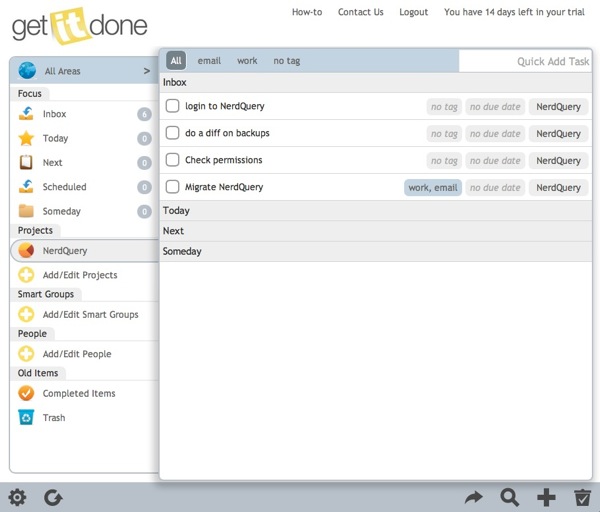 Pricing
Free 14 day demo. $39 per year.
Apps
iOS app

Really just a wrapper around the web page

Web app
Assessment
I'm not a big fan of the aesthetic but it is very usable. Drag and drop works great throughout the web app. The iOS app is not very good.
Free trial
Multiple tag support
Areas of responsibility
No start date
Each project view has Today, Next and Someday overview
No sequential task support
Can not convert task to project
Good repeating task options
Quick entry
Search in notes
File attachments for tasks
Trash
I think Get It Done is a good service. It's probably better than the Todoist web app. Keep looking…
Pricing
Free, $50 or $100 per year. The premium accounts unlock more projects, contexts, contacts and extra features like offline access.
Apps
Assessment
Vitalist has some great ideas in a package from 2005. The UI is not pleasant. Some items respond to click and drag and others do not. The easiest way to add tasks quick add into the inbox and then fiddle with the project and context later.
Allows multiple contexts
Start Date is actually called Due Date
Filters
Context Notes
Smart Search
Allows file attachment (Upgrade)
Offline Mode (Upgrade)
Priorities
Nested Projects
No option to convert a task to a project
No option for repeating tasks
Moderately quick entry
Support for file attachments
Task and project feeds
The smart filters and saved queries are great. I like some of the poweruser options but ultimately Vitalist was not a pleasant experience. Vitalist could work well, but I just wasn't happy working in it. It's not you, it's me…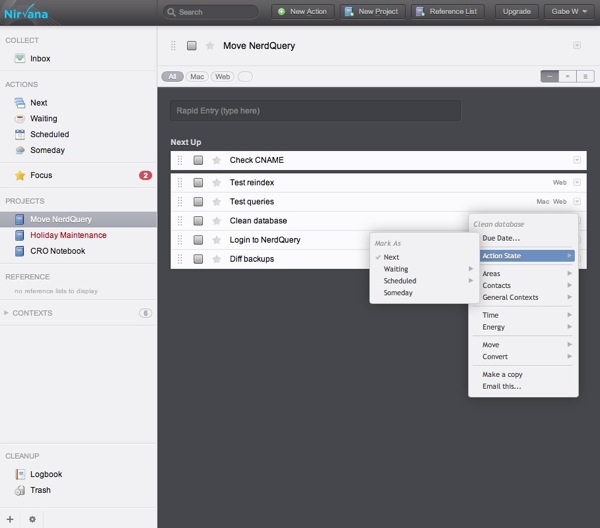 Pricing
$5 per month or $39 per year gets you unlimited projects, reference lists, and areas of responsibility.
Apps
iPhone (kind of buggy)
Web app
Assessment
The Nirvana web app is gorgeous and powerful. The web app feels like a native app. The feature set is the most complete I've seen.
Repeating tasks
Multiple tags
Energy level support
Start Date Support
Due Date Support
Can convert task to project
Support for Areas of Responsibility
Support for reference material
Trash and logbook
Quick entry
Support for sequential tasks
No Import or Export (correction: export is available on the profile page)
No file attachments
No option to email task into app (correction: there is an email inbox listed in the profile page)
The iPhone app looks dated and is a bit buggy. It's terrible on the iPad.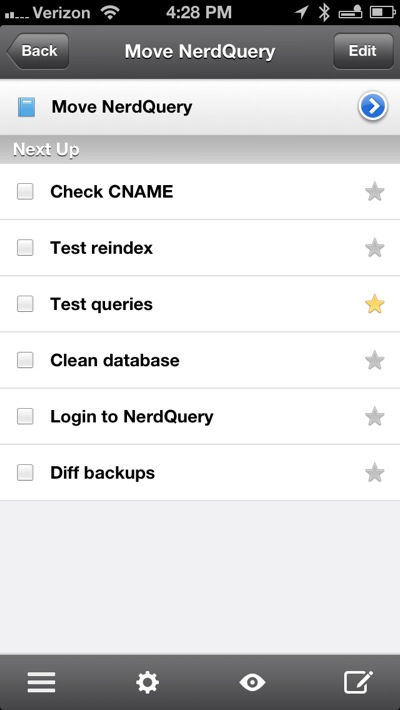 Nirvana is a bit of hyperbole but I'll allow it. They have done a great job with the web app features and design. This is the first app that could compete with OmniFocus. Dare we continue? We do…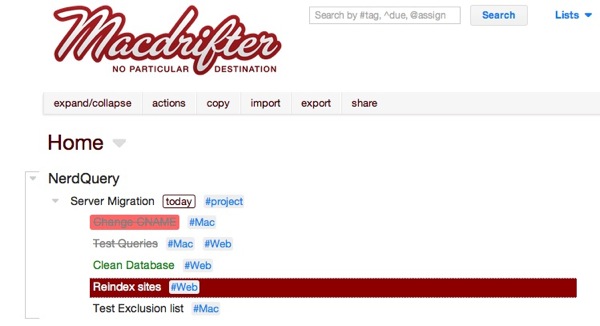 Pricing
Free or $38 per year for Pro account. Special pricing for teams.
Apps
Web app
iPhone (third party)
Assessment
I'm a bit partial to Checkvist (review). I use it extensively for outlining and notes and a good amount of experience with the API. It's a wonderful web app that does not feel like a web app. Checkvist is not just an outliner. It is intended to be a task management system with support for due dates, assignees, tags and
File attachments
Support for multiple tags
Smart search with custom syntax
Search within date range
Share and collaborate
Priority colors
Task assignment
No start date support
No on-hold status
Smart date syntax
Import and export in plain text
API
Bookmaklet
Email notification
I'm a Checkvist fan. I use it every day. But the lack of a good iOS app is holding it back. I can cope with the web app on iPad or the mobile site on iPhone when I am just editing and outline. But a task manager needs quick entry and an easy review system. Checkvist is stuck in a place I just can't go. But there's hope…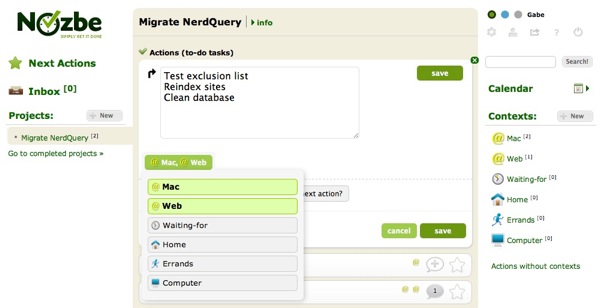 Pricing
$10 per month. Special pricing for teams.
Apps
Web app
Mac app
Windows app
iPhone app ($5)
iPad app ($15)
Android app
Windows Phone
Assessment
Pronounced "nose-bee", which is a bit hard to take seriously.
Can convert a task to a project
Email notification
Native iOS notification
Tasks from Twitter DM
Email tasks to system
Bookmarklets and AppleScript
Drag and drop
Quick entry
Multiple context support
Repeating task support
No support for task notes
Project notes
Task comments
Support for team assignments
Link to Evernote files
Link with Box.net files
Upload files to project (space limited by account type)
Bulk add actions at once
Customize project color and label
Google Calendar integration
Project templates
Offline support
Nozbe is a complete task and project management system that can do just about anything I need it to do. A lot of thought went into the features. Nozbe has some very clever ideas, like the automatic linking of Evernote files and executes them well. Nozbe also has provides a cornicopia of native apps that are not just wrappers around their web page. They work well. The Mac app is simple but looks good and does what I need it to do.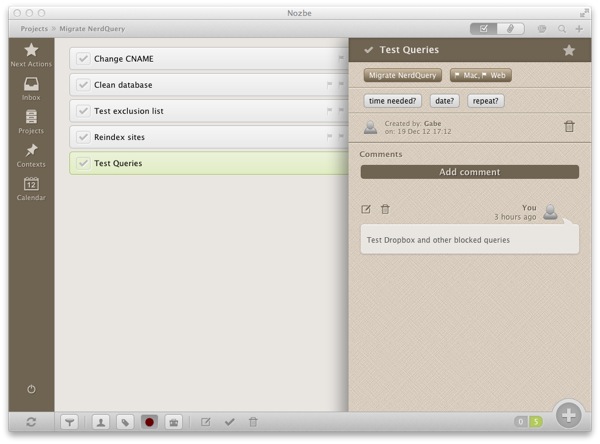 The iPhone and iPad apps are not free but, neither are they expensive. For $20 you can have them both and they both work well. Quick entry really is quick and there are some clever touches for setting due dates.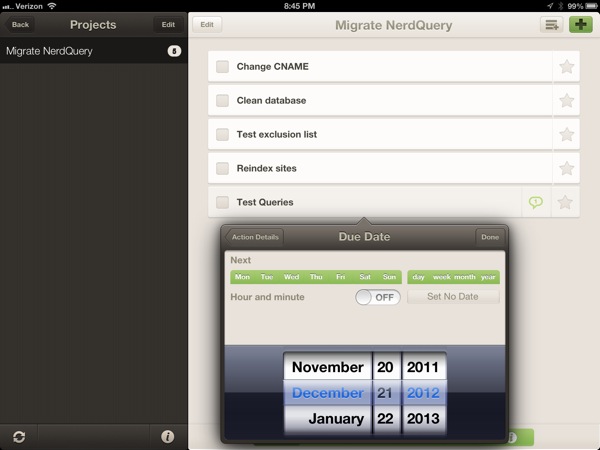 There's some adapting for a long term OmniFocus user like myself. There are no perspectives but there are project labels that can be used to group projects together. There's no support for nesting projects or grouping within folders. There's no magic clipper on the Mac and there are no start dates or on-hold concepts.
Conclusion
I'm not sure where this all is taking me. Sometimes you need to get out and have a hallucinogenic vision quest through the desert in order to appreciate what you have.1 It's very easy for me to sit and complain about OmniFocus' rigidity but truth be told, there isn't anything dramatically better out there. There's never going to be a single system that works well for everyone in every situation. I just want to find the one that will carry me for the next five years.
UPDATE
To be crystal clear, this is the first part of a multi-part series. There are more task management apps than there are hours for me to waste. Part two will cover a second batch. This will also range from useless to worthy competitor.
Part Two
The second part of this review is available.
---
It's unlikely my wife or employer would accept this logic. ↩︎