I really like my iTunes library. I really like my smart play lists. I really don't care for the iOS music player so I play the field. I recently stumbled across Groove for iOS and I am thrilled with it.1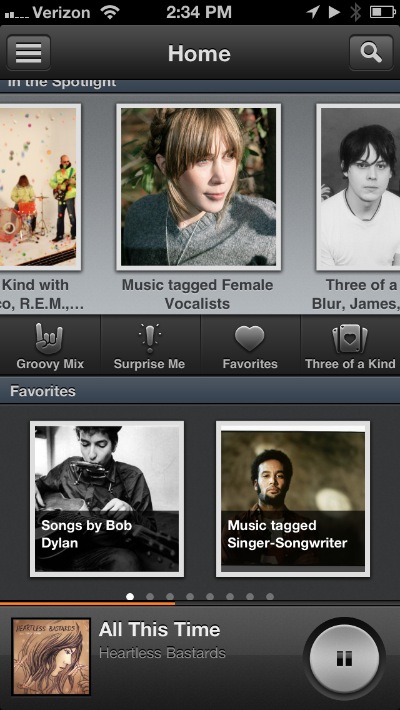 Tag Team
The core of Groove is it's tagging engine. When I first launched Groove there was a brief period of about five minutes while it performed a sync with my library, including iTunes Match. When that completed I had an entirely new view into my music.
Groove identifies meta data like "female artists", "80's music" and even "Canadian" from my music library.2 Tags are browsable and sortable and a bit fascinating. I really enjoy the process of rediscovering music from my ever growing collection. As it turns out, I still agree with most of my previous purchases.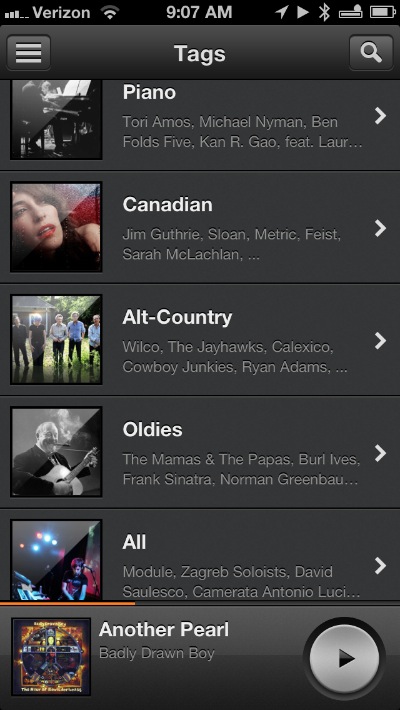 Search in Groove is similar to Apple's music player. Results are grouped by Artist, Album and Track. One difference is that Groove's search is available on just about every screen.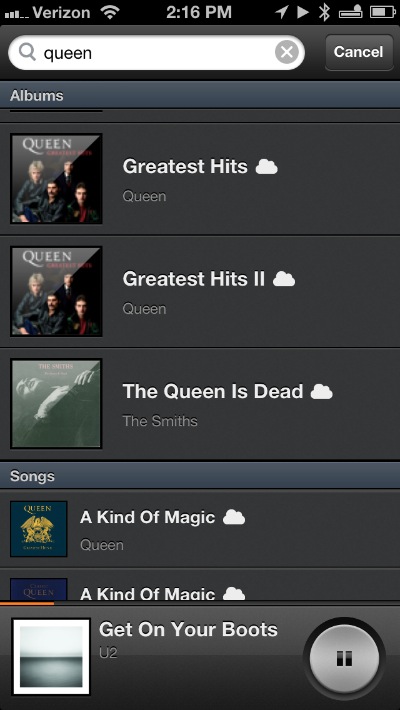 To Me You Are a Work of Art
Groove doesn't try to pretend to be your ordinary iTunes player. It tries to be something new and succeeds well at it. Album covers are replaced with rotating artist and band pictures. I love this feature because it really made me disregard my specific memories of an album and think more about the artist. I also just love seeing great band photos.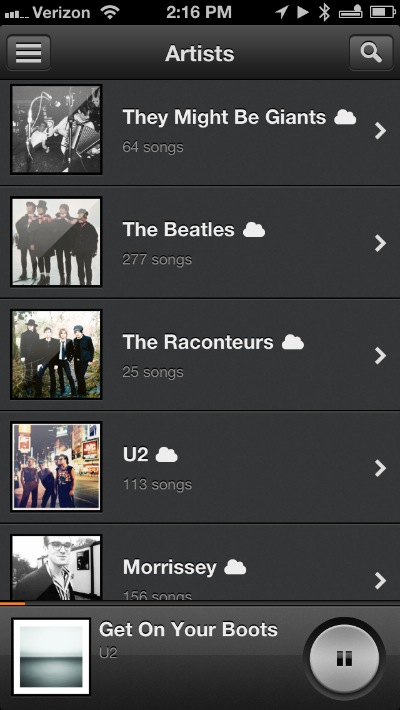 History Never Repeats
Groove adds some clever play options on top of all this art and meta data too. Of course I can plan specific artists and albums as well as iTunes playlists. But the real fun is in letting Groove choose music for me.

There are four ways Groove can delight: Groovy Mix, Surprise Me, Favorites and Three of a Kind. Groovy mix is similar to Apple's "Genius" playlist which attempts to build a playlist of music in a similar genre. The Groovy Mix is slightly better than a Genius mix, which is already very good. A Groovy mix is much shorter than a Genius list but the preferences offer some controls over the length and the action that occurs at the end of a playlist, such as refresh the list or create an entirely new Groovy list based on a random artist. A Groovy mix can either be based on a random artist when activated from the home screen or a specific artist in a play list.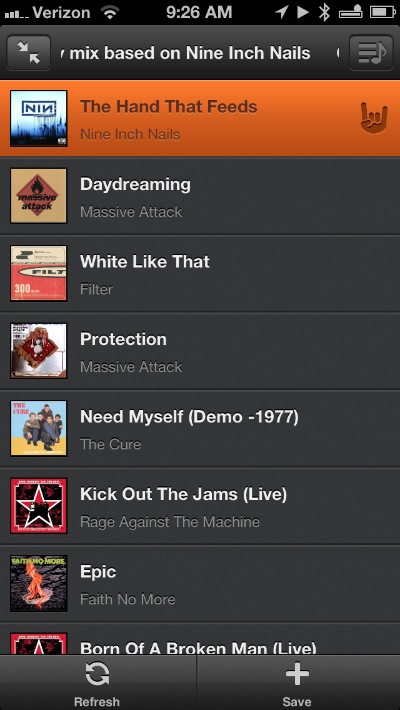 The Favorites play mode appears to use some logic on top of star ratings. Most of the track were my four and five star tracks but one was a three star track I've played several times. I don't know what the magic is and I don't care.
The Three of a Kind play mode is an obvious little trick that I think is great. It randomly chooses artists and plays three random tracks from them. It's just a series of three-peats over and over and it's great.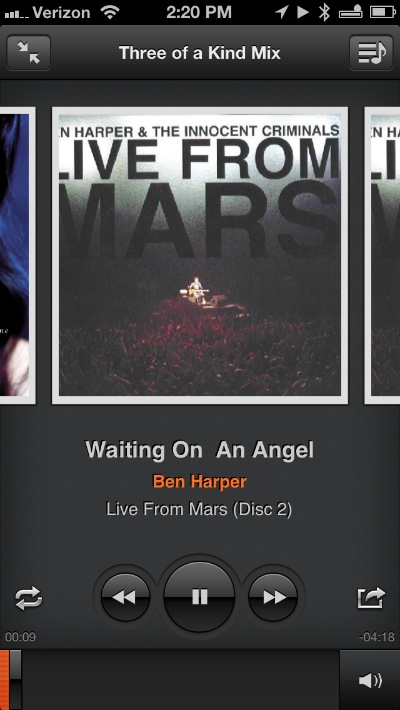 The Surprise mode is essentially a random selection of one of the other three modes. Not that surprising.
Play for Today
With all of these play modes, I was worried that my carefully crafted playlists would be buried. But Groove has me covered. There is a clean separation between the playlists that Groove creates and those that are in my iTunes collection.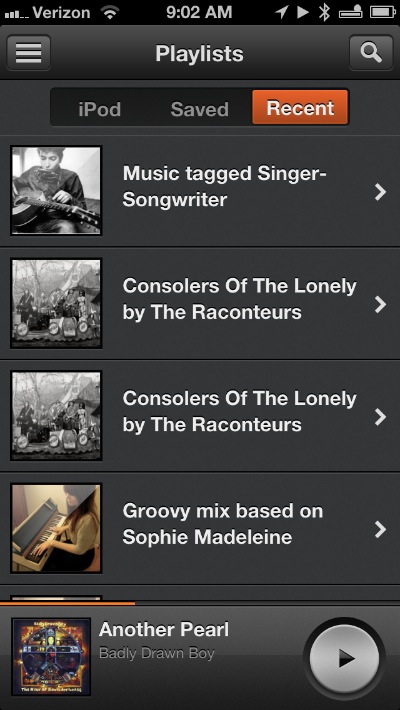 There are also a few ways to share songs and playlists. Last.fm can be enabled for scrobbling and there are options for sharing by Twitter, Facebook and email.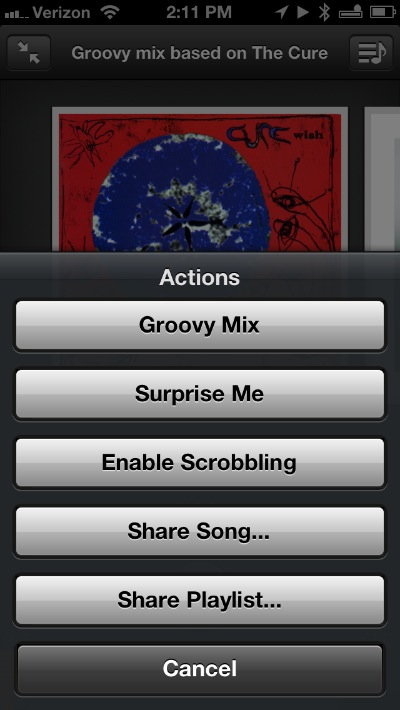 I like the concept, but in practice, the links are redirects to broken iTunes searches.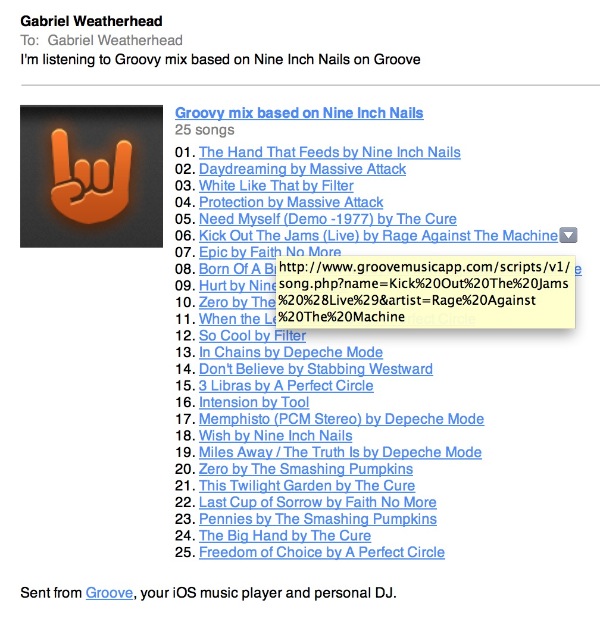 Help!
Groove has a number of basic features but many are only available through a gesture trigger. There is a nice help walkthrough available at any time.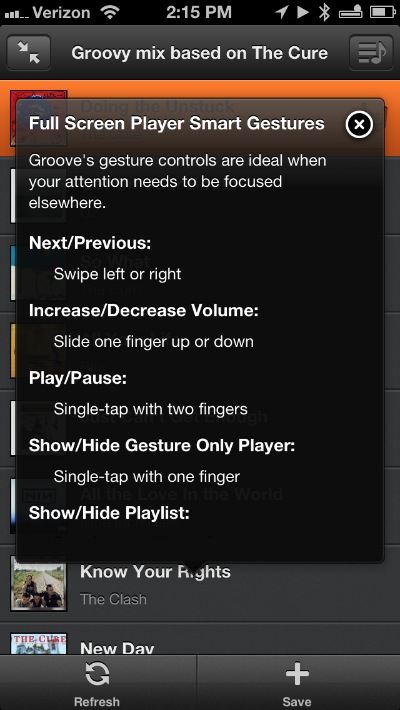 I Started Something I Couldn't Finish
Groove 2 is a great little universal app. The iPad version is equally good but I don't listen to music with my iPad. The art does look really good when scaled up on the larger screen. There are a few things I don't like about Groove. I find the over indulgence of gesture controls a little tedious. Some are great, like the two-finger tap to pause on the main player, but the one-finger vertical slide for volume adjust was annoying. Some gestures only work in some contexts and it's just too confusing. I'd love to see a bit more transparency in how the favorites and tags are generated too. Those are pretty minor gripes.
I plan to keep using Groove 2 and it has replaced my default iOS Music app and my previous favorite player Ecoute. It's well worth the minimal price.
Groove 2 | Universal iOS | $4