Sponsorships
Macdrifter.com is a unique place on the Internet where regular readers come to learn about atypical Mac, iOS, development, design and science. This is not a shovel-news site. It's an opinion site with lots of tips and tricks and the readers come back day after day.
Macdrifter.com gets about 630,000 page views a month from 54,000 unique visitors making 100,000 monthly visits.
Ads are displayed on the sidebar. There is also one exclusive sponsor post that publishes as a normal article on the site, in the RSS feed, Twitter stream and permanently in the archive.
I want to make my sponsorships good for both the reader and the sponsor. That means matching the right sponsors to the people that read this site. It also means I put a lot of effort into making an ad that people will bookmark, share and read more than once. I take one sponsorship per week for things that are truly great. If you think you have something awesome that would fit with the kind of people that read Macdrifter.com, please contact me: sponsors@macdrifter.com.
If you'd like to see some examples of the ads I've produced for this site, take a look at these:
DEVONthink Office Pro as an RSS Power User [Sponsor]
DEVONagent for Web Searching [Sponsor]
Terminology by Agile Tortoise [Sponsor]
iThoughts is the Premier Mind Mapping Software for Mac and iOS [Sponsor]
The Elegance of PCalc [Sponsor]
Taking Action on Feeds with Mr Reader for iPad [Sponsor]
My goal is to create ads that are more than just a blip in a feed reader. I want to make something that's good for sponsors because it's good for readers. I think that's a good goal.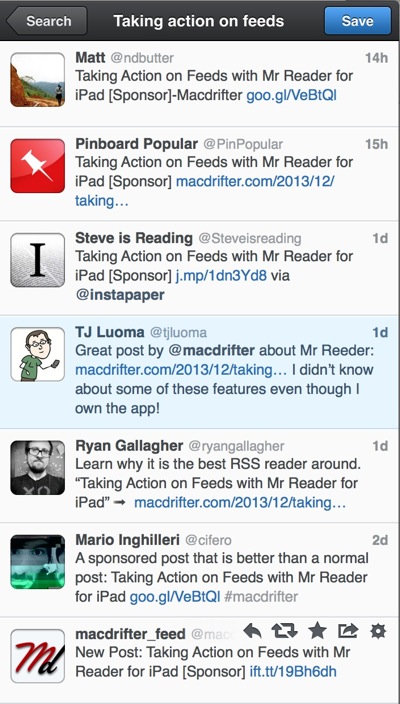 | Availability | Price |
| --- | --- |
| January 6th | Booked |
| January 13th | Booked |
| January 20th | Booked |
| January 27th | $275 |
| Weekly | $275 |